Hearty laughs, standing ovations, an award-winning special guest and a rapt audience—these were just some of the things that made Syracuse University's 34th Annual Martin Luther King, Jr. Celebration an insightful and entertaining night to remember.
The Martin Luther King Jr. Celebration is the largest campus celebration of its kind in the U.S. to honor the work and legacy of Dr. Martin Luther King, Jr. In the spirit of bringing people together in a collective celebration, the event kicked off with a colorful performance of Adanfo Ensemble, an African drum and dance originating in Syracuse that "uses music to celebrate diversity and unite cultures within the community." The Adanfo Ensemble's performance was followed by the undeniably endearing performance of the white T-shirt clad children of the Higher Standards Camp, and the energetic and rousing performance of SU's Black Reign Step Team and Orange Appeal.
Voicing their support and respect for the celebration, Chancellor and President of Syracuse University Kent Syverud and Dean of Hendricks Chapel The Rev. Brian E. Konkol took to the stage as well.
"We remember the values that define both character and leadership, we celebrate those who dream of possibility and dive into reality, and we act to do our part in bending the universe's arc toward justice," Rev. Konkol said in ringing tones. "May our collective light this night drive out the darkness and bring us all into the fullness of life."
Deresha Hayles, a Syracuse University senior on the planning team for the occasion, stressed on the theme of this year's celebration, Global Impact of Civil Rights, to recognize that the work of leaders like Dr. King had ripple effects through the world.
Localizing those effects for the student body here at Syracuse University, Hayles went on to note the commitment of Syracuse University to foster an environment that reflects the diversity of experiences on campus.
"This commitment is rooted in the belief that education informed by multiple points of view, life experiences, ethnicities, cultures, abilities and belief systems is essential and pivotal to academic excellence," she said. "As a campus of students, staff, and faculty from around the world set within the context of a dynamic city and a beautiful region, we affirm that the capacity to learn from a range of perspectives benefits all. Each local interaction has a sustained global implication."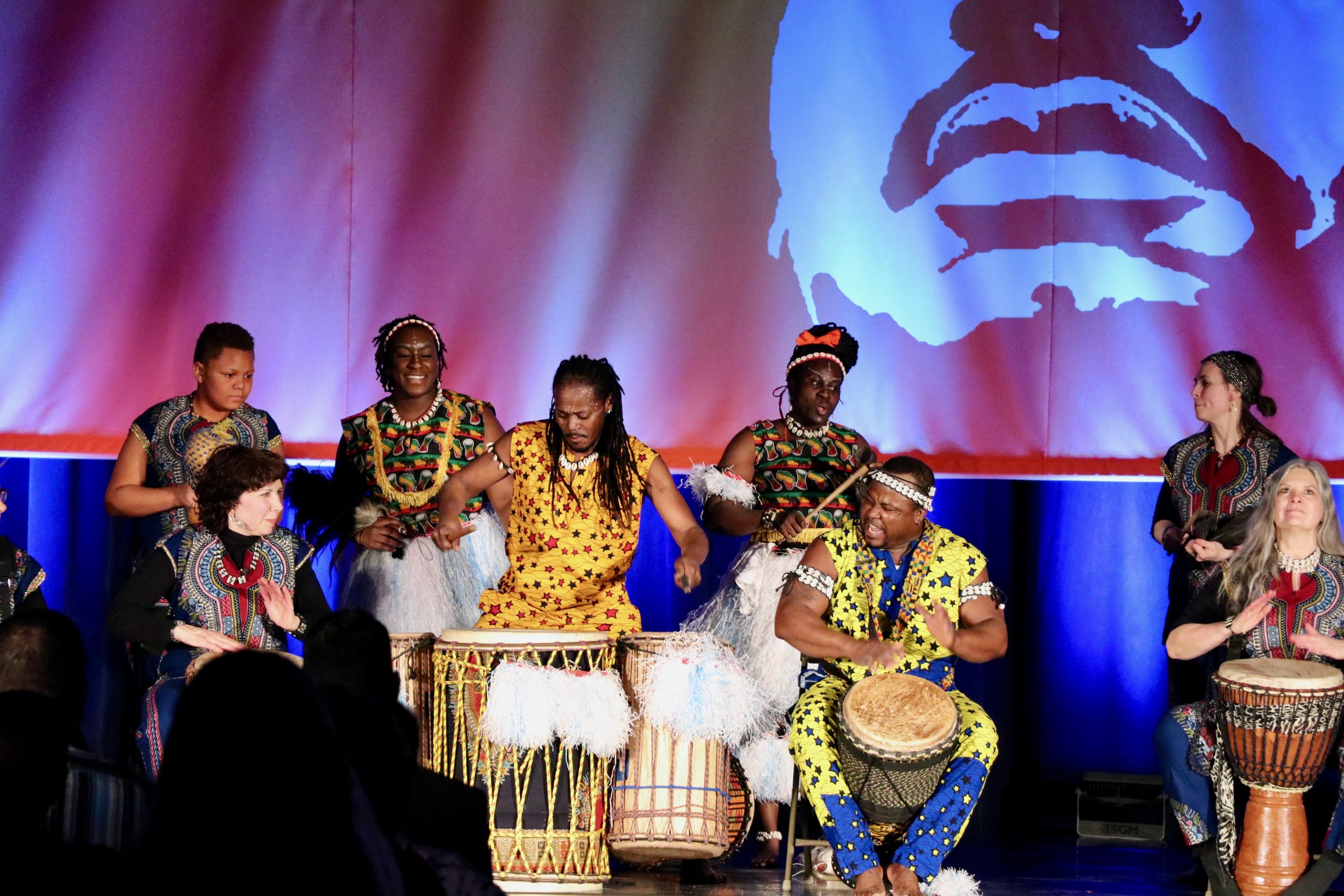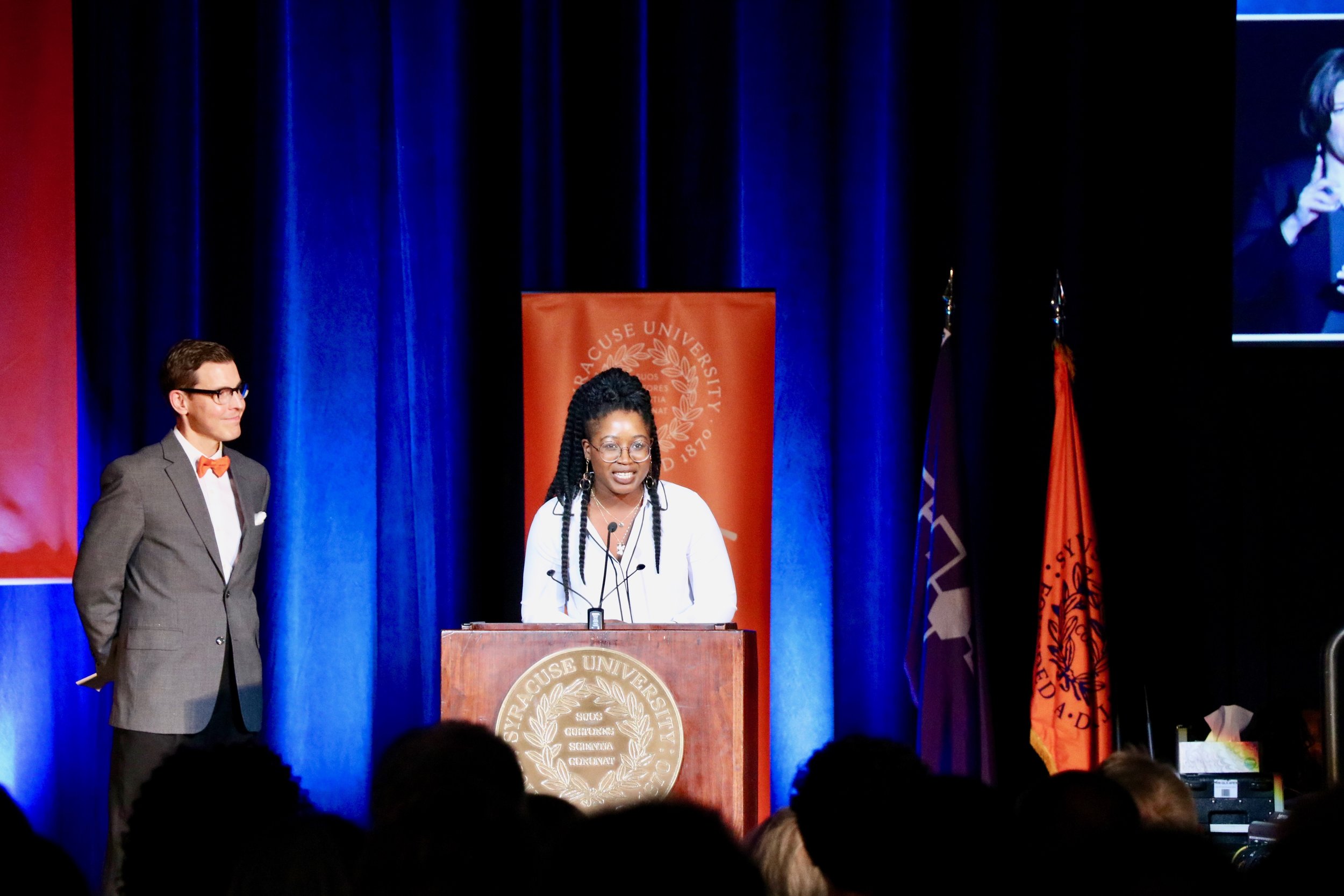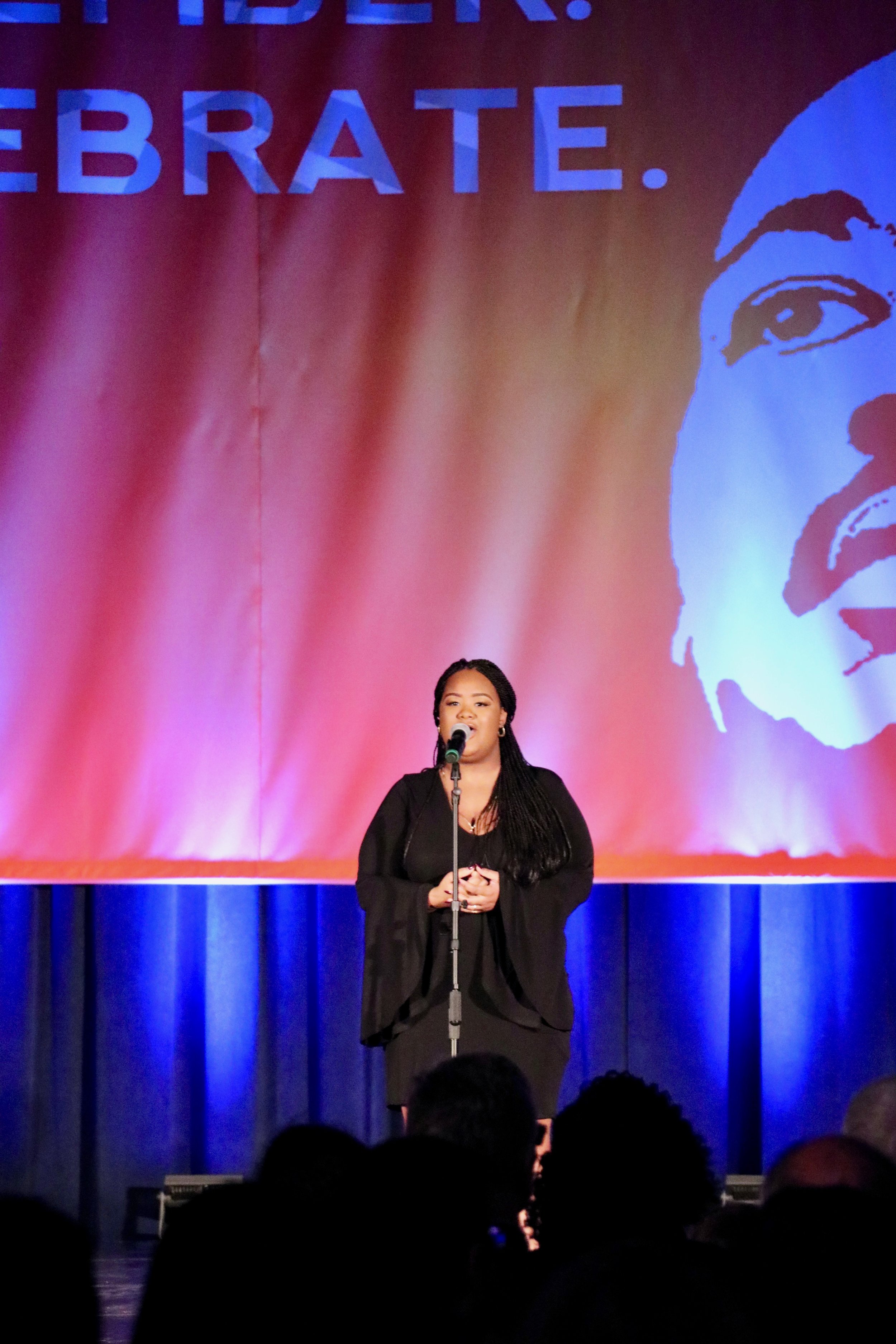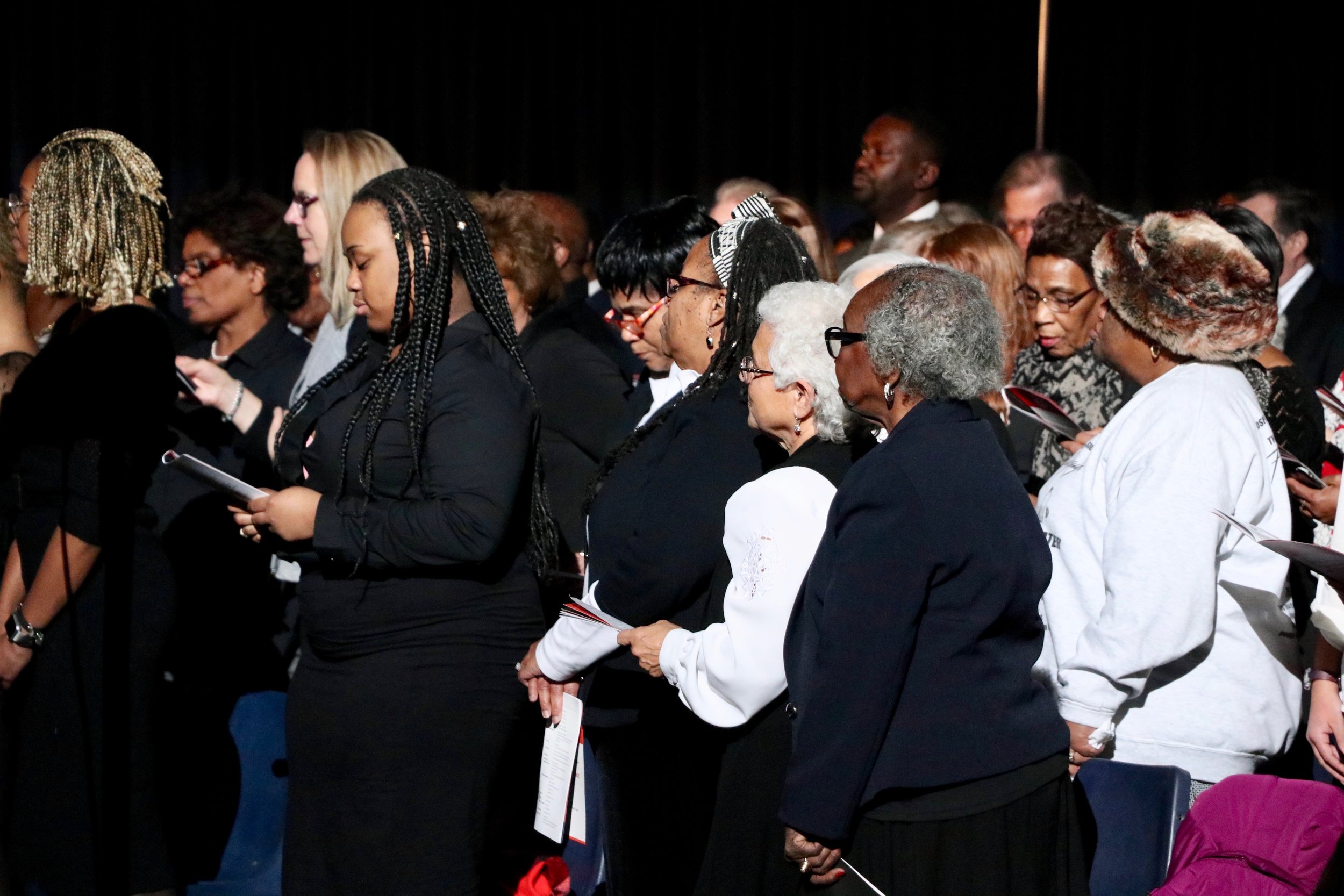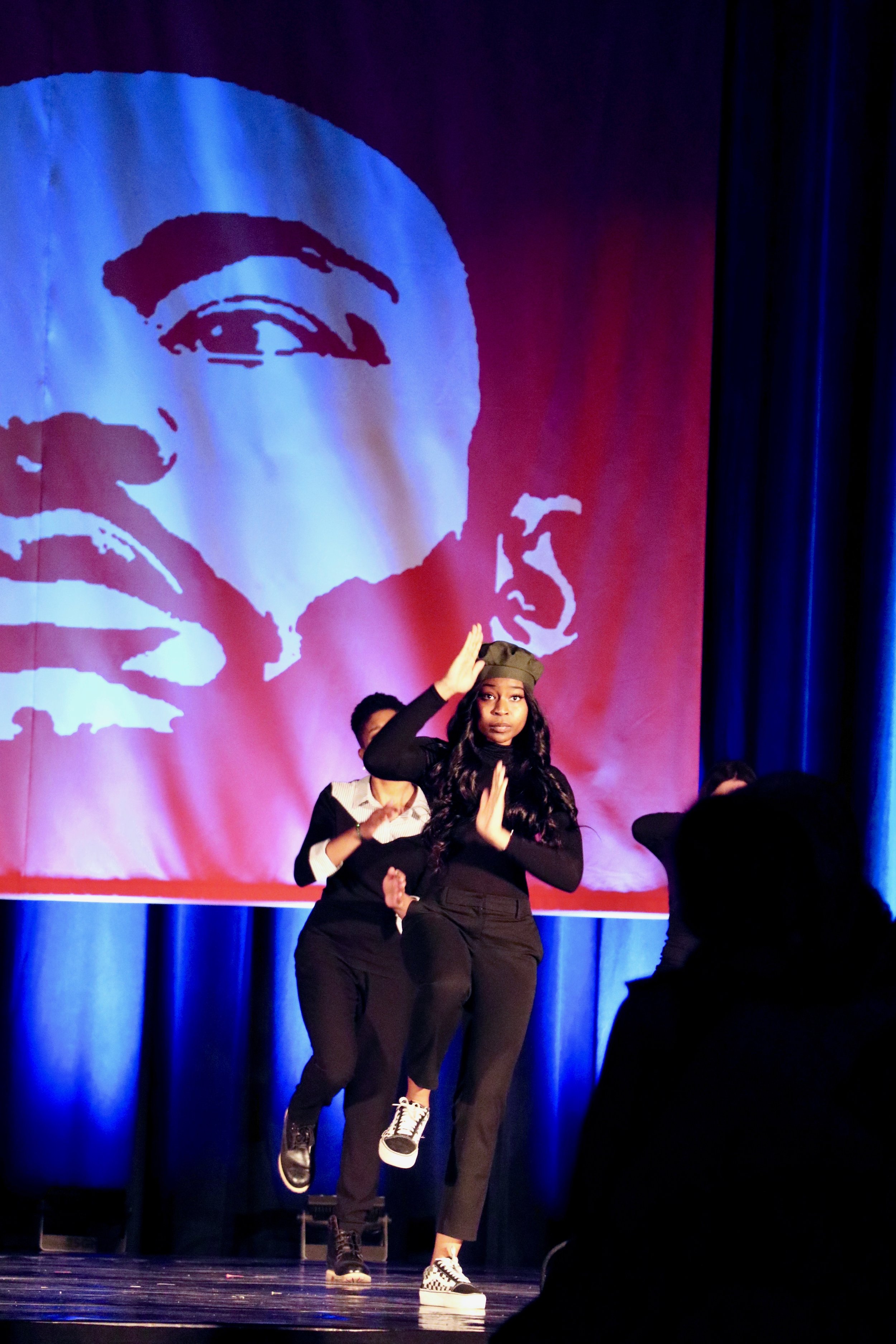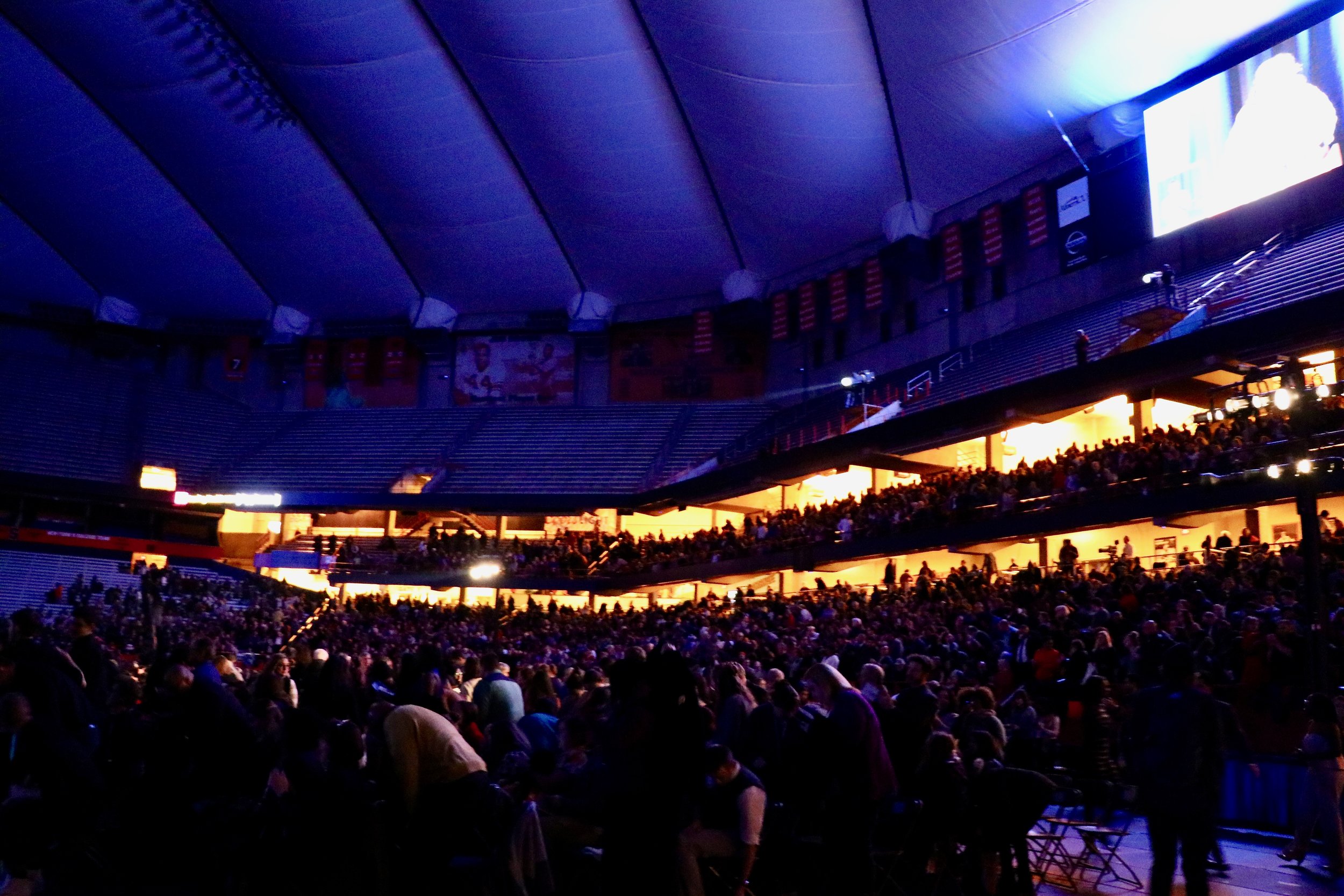 Almost as if taking cue from Hayles' words, the night went on to feature recognition of individuals in the community whose often unrecognized efforts have made a positive difference in the life of others. This year's Unsung Heroes awards were given to 11-year-old Amaiah Crisler, whose artwork on a Syracuse sidewalk drew the eyes of Facebook's share button over 71,000 times; Marissa Saunders, the director of community engagement for Syracuse and Rochester; Stephen Mahan (posthumous) whose work with the Photography and Literacy Project helped Syracuse City School students improve their literacy skills through photography; Priya Penner, a strong campus advocate for students with marginalized identities; and Syeisha Byrd, the engagement director of the Hendricks Chapel.
The moment in the night that received the loudest cheers was, of course, the one many in the crowd had been waiting for: special guest and winner of the Emmy and Peabody Awards for his work on The Daily Show, comedian and author Trevor Noah.
Noah engaged in a discussion about learning to fight, learning to forgive and his advice to younger generations with Jennifer Sanders, the morning and noon news anchor at ABC affiliate NewChannel 9 WSYR-TV.
Noah's key takeaway from the legacies of leaders like Dr. King and Nelson Mandela is to prevent anger from becoming a driving force, and to not confuse love with inaction: "Love doesn't mean not fighting," he said.
"You fight against an injustice," he concluded. "But you don't let it steal your joy."
Outlining serious reflections with chuckle-laced quips, Noah narrated the story of his childhood in South Africa and the lessons he learnt from his upbringing and his family, particularly his mother, during times of hardship and triumph. Noah often thought he was the hero of his story and book, Born A Crime: Stories from a South African Childhood, he said, yet he was only slightly disarmed when he comedically learned that his mother was the real hero.
"I was her punk-ass sidekick," he wryly conceded. "Everything I've achieved is because of my mother. I am only where I am because I'm standing on the shoulders of giants." He said his mother always knew how to "break ideas that were ludicrous". He recalled her strong spirit and tenacious demeanour during all the times she couldn't be seen with him in public, due to South Africa's apartheid laws.
Cognizant of the pain that discrimination entails, Noah highlighted the difficulty of learning to forgive and learning to reconcile. That's what one must strive for, he said.
"Even if I have the opportunity to do what you did to me, I choose not to exercise it." That's the mindset Noah hopes one achieves.
One way he reconciles his experience with his conclusions is through humor. "Humor is me trying to remind myself that on the other side of this obstacle, I still exist," he said.
Pressed to dispense advice to the young Trevors in the audience, Noah's belief in humor's power continued to shine through: "Humor is how you perceive the world. We all laugh," he said. But, naturally, his advice was augmented by more nuggets of wisdom.
"You are truly in control of what you do in your life. It may not always be good," he said. "But what you make of those things determines who you are."
And as a reminder that people must strive collectively towards unity, reconciliation and inclusiveness, Noah had this to say:
"When you grow, you have to do it from a place of hope, as opposed to a place of fear."
Head editor Divya Murthy is a senior studying magazine at Syracuse University and a resident opponent of the pumpkin spice latte. She enjoys blogging about socks, sunsets and elevators and also helping writers cover stories of global cultural interest.