The rising mixed race population is changing the way we think about multiculturalism and identities — here, five students share their stories about finding their own.
When Sean Dorcellus was a child, if he was ever seen with one of his parents but not the other, people would assume that he was adopted. He has significantly lighter skin than his Haitian father but is significantly darker than his Irish-American mother.
"I definitely grew up different, but everyone grows up differently," says Dorcellus. He's one of 9 million Americans who identified with more than one racial category in the 2010 U.S. Census.
At least 9.8 million people reported a different racial or ethnic background in 2010 than they did in 2000, according to the Pew Research Center. Although the number of mixed people is steadily rising, Dorcellus says he didn't see that increase reflected where he grew up. "It was diverse, but not within oneself."
His life changed when Barack Obama became president in 2008. Seeing a mixed person, with whom he shares a similar background, at the helm of the free world was incredible to Dorcellus. White people have experienced that with 43 out of the 44 presidents in the U.S., he says
According to 2010 Census data, there are 9.3 million U.S. multiracial adults and children. This chart shows the percentages of the largest mixed race groups in the population.
Even though the U.S. Census has included racial categories since the first one in 1790, it wasn't until 1960 that people could select their own race on the form. The 2000 census was the first time people could select multiple boxes for race and by 2010, the census could yield 57 possible responses — a change that could be reflective of a shift in the way people of mixed race self-identify, according to Paul Overberg, a data reporter at the Wall Street Journal and a recent guest at the Race and the Media Symposium held in April at the S.I. Newhouse School of Public Communications.
"Some other race" was the third largest racial group reported in census results from 2000 and 2010, according to NPR.
"I think, in a society that's so tolerant of diversity and has so many different dimensions, a lot of people feel comfortable treating it [racial identity] as sort of a fluid thing, depending on their circumstance, where they live, or what they now understand about their upbringing, or what they want to honor from their ancestry, or who they're now married to," says Overberg. "So I think all that goes into it and it makes it a much more fluid idea than people used to think about 20 and 30 and 40 years ago."
With time, Dorcellus has come to love and appreciate the differences in his background that makes up who he is today. Far from being a hindrance, being mixed race has helped him appear more approachable, relatable and naturally develop a wider cultural understanding.
How people perceive themselves can differ from how others categorize them based on their physical appearances. There's not only a growing population of mixed-race people, but also a growing awareness and acceptance of the complexity and multiplicity of identities.
Dorcellus says that people will always ask him where he's from, and he will always be proud when explaining his lineage and family genealogy.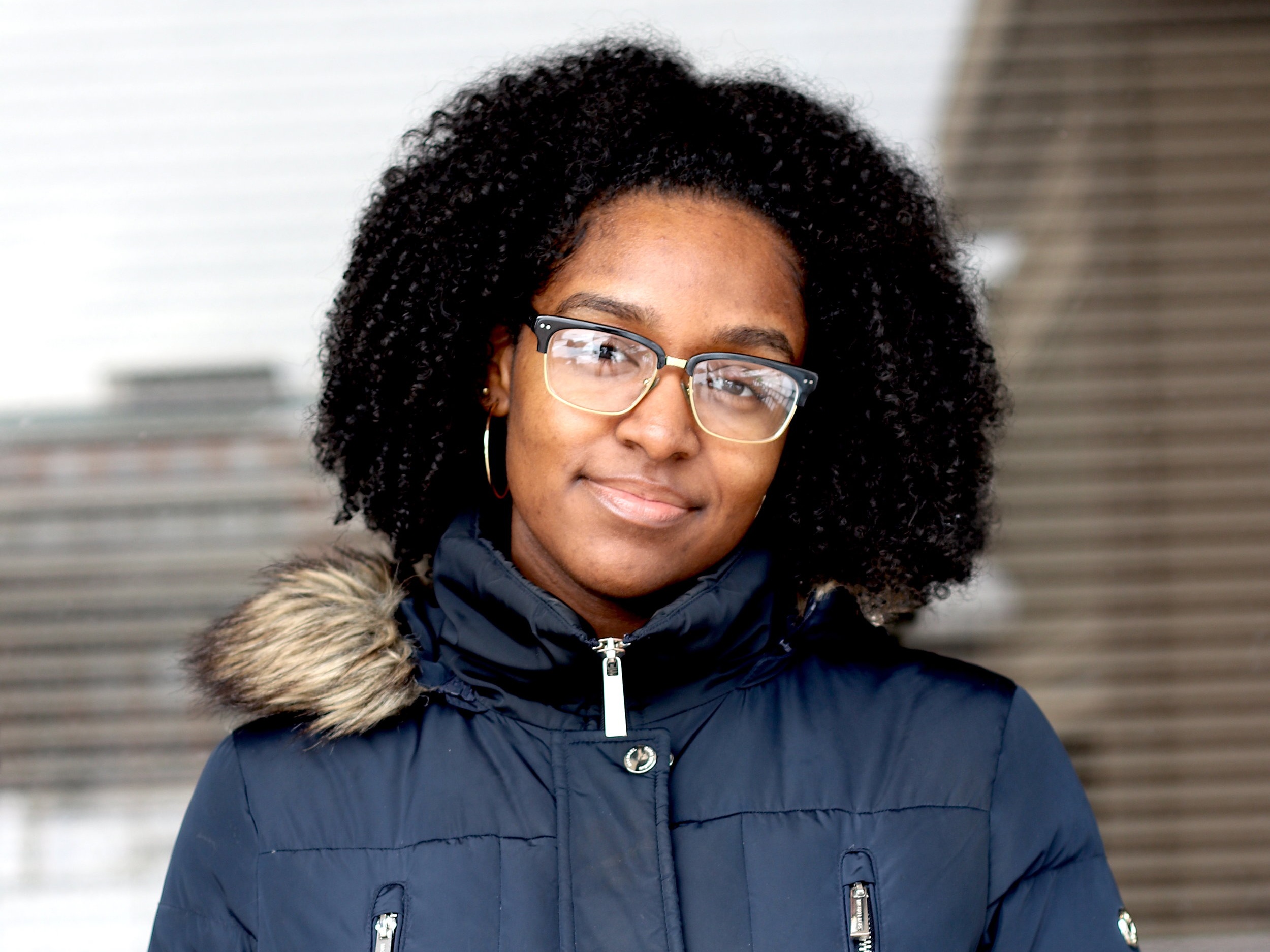 Bronx, NY | Health and exercise science
Lindsay's father is African-American and her mother is Cuban. She grew up speaking Spanish to her grandmother, eating a lot of rice and beans at home and going to a high school predominantly populated with minorities and students of "different shades of brown." She says that Hispanics and Latinos could have dark skin like she does — not all of them have the stereotypical lighter caramel skin tone. She's black and Hispanic, but the media most often only portrays people who are mixed black and white and depicts the mixed race experience as a very torn one — which isn't always the case, she says. She finds hers more positive, and she wouldn't have it any other way.
"When I'm asked where I'm from or my family's from, I'll lead with the 'Cuban' and won't necessarily say the 'black.' I do sometimes say both. Sometimes I don't say both because I feel like I present as black."
Cleveland, Ohio | Advertising
Trevor Lin has been mistaken for Hispanic, white and Chinese among other races and ethnicities. What many don't know is that Trevor is Asian-American — his father is Taiwanese and his mother is white. After Lin's parents got divorced, he spent most of his childhood with his mother in Cleveland, Ohio, in what he calls a "very white environment." When he was younger, he identified more as white, but a slew of ignorant comments from his classmates began challenging his own perception of his identity. Most of them didn't know Lin was half-Asian, but when they did find out, the Asian half of his identity, already in a state of flux, started to define him in a disconcerting way.
Today, Lin wonders what it would be like to really embrace his Taiwanese side and to come to terms with an entire culture he didn't get to experience much as a child. He reflects: "My identity has always been really closely tied to my mental health. So when I started to question my identity, when I started to become my own person, I found myself struggling from a mental standpoint with my confidence and self esteem. I'm just learning that confidence comes from within, and it can't be validated by somebody else. If I'd started hammering that into my head ten years earlier, I would probably be a happier person for it."
"I think over the last few years, I've realized that for me to feel like a full person, I need to equally pay respects to both of my parents and both of the cultures that they gave me."
Tegucigalpa, Honduras | Nutrition
Growing up, Andrea Yip struggled to identify with the world around her. It didn't help that she knew few people who were Latina-Asian, both in-person and on-screen. Yip is half-Chinese and half-Honduran. Despite her dual identity, Yip connects most with her Honduran side and grew up speaking Spanish as her first language. Her father was born in China and moved to Honduras when he was four years old after his father started a business and moved the family there. Yip has never been to China, but when she's back home in Honduras, she stands out because she isn't full Latina. Yip says she's fine with this though, because she is proud of both her identities.
For her, the best thing about being of mixed race is the food. She says she isn't a picky eater at all because she grew up eating just about everything. Coming to Syracuse has helped her embrace her identity more closely than ever before, and meeting people from different cultures has pushed her to better embrace her own. She says she has found a community here, a place that "feels like a piece of home."
"Learn to be comfortable with the things you like about both cultures because neither of them are going to be perfect."
Jesus Ghael Fobes Mora '22
Boulder, Colorado | Broadcast and digital journalism
Fobes says that in the eyes of most people, he is just a "slight off shade of white" or a bit tanner. The color of his skin fluctuates easily; he tans quickly and can turn significantly darker during the summer while in the wintertime, he can be as pale as his dad. The complexity of his physical traits often prompts people to ask the question, "Where are you really from?" — a classic micro-aggression, he says, the idea that individuals can only be one identity and the other components of who they are must be secondary or not matter as much.
Fobes was born in Ciudad del Carmen, Mexico, the home of his mother. His father is from New Jersey. Spanish is Fobes' first language; it's something he goes back to and takes a lot of pride in.
"One of the unique things about being mixed race is not that you are from two places, but [that] your experience has been largely founded upon you bridging two places." Fobes says that having a mixed identity is, in some sense, a blessing in that it enabled him to speak to people who fit more neatly in those different categories. "I think that over time, what would generally make you feel like an outsider for both places can actually make you feel like almost an ambassador of both places. You can speak, not necessarily on behalf of the place, but you can speak from a place of a little bit closer to truth."
"What I tell people, when they ask me where I'm from, I say, "well, it's a little bit more complicated than just a regular answer."
Former editor-in-chief Saniya More '19 is a senior broadcast and digital journalism student at Syracuse University.
Editor-in-chief Jiaman (Maggie) Peng is a sophomore advertising student at Syracuse University.